Must bring your laptop!  You will create UP & RUNNING MOBILE APPS in your smart phone in this 4 HOURS FOC hands-on workshop!!
Warning:
THIS COULD CREATE MASSIVE TURNING POINT IN YOUR LIFE!!
You can stay in the rat race OR break free and create that fulfilling &
WEALTHY LIFE you've always wanted!
YOU CHOOSE…
This could be your answer to:
How YOU Can Create Multiple Streams of Income
Quit Your Job & Earn a Good Income From Home
An Extra 5-Figure Income to Do Things You Love
Endless Possibilities For YOU & Your Loved Ones
We are good at creating Mobile Apps and to date, we have sold so many Apps on the market place and earn a regular Monthly Passive Income that is many times more than the average monthly income of most people.
If you are interested to explore how you could receive more income, we welcome you to this rare Hands-on Apps Creating Session where you can build a functional app within this short period.  It's easy & no program knowledge required!
You need to bring:
A smartphone or tablet
A Laptop for actual practical
(pls reserve your laptop if you need to use ours, first come first serve basis)
Who should attend?
You who want more income, more time freedom, more choices in life
You who want to bring your business into the mobile digital marketing
You who want to create a home-based business
You who want to explore changing career
You who are curious at how apps are built & created
SEATS ARE LIMITED!  Reserve your seat(s) early to avoid disappointment!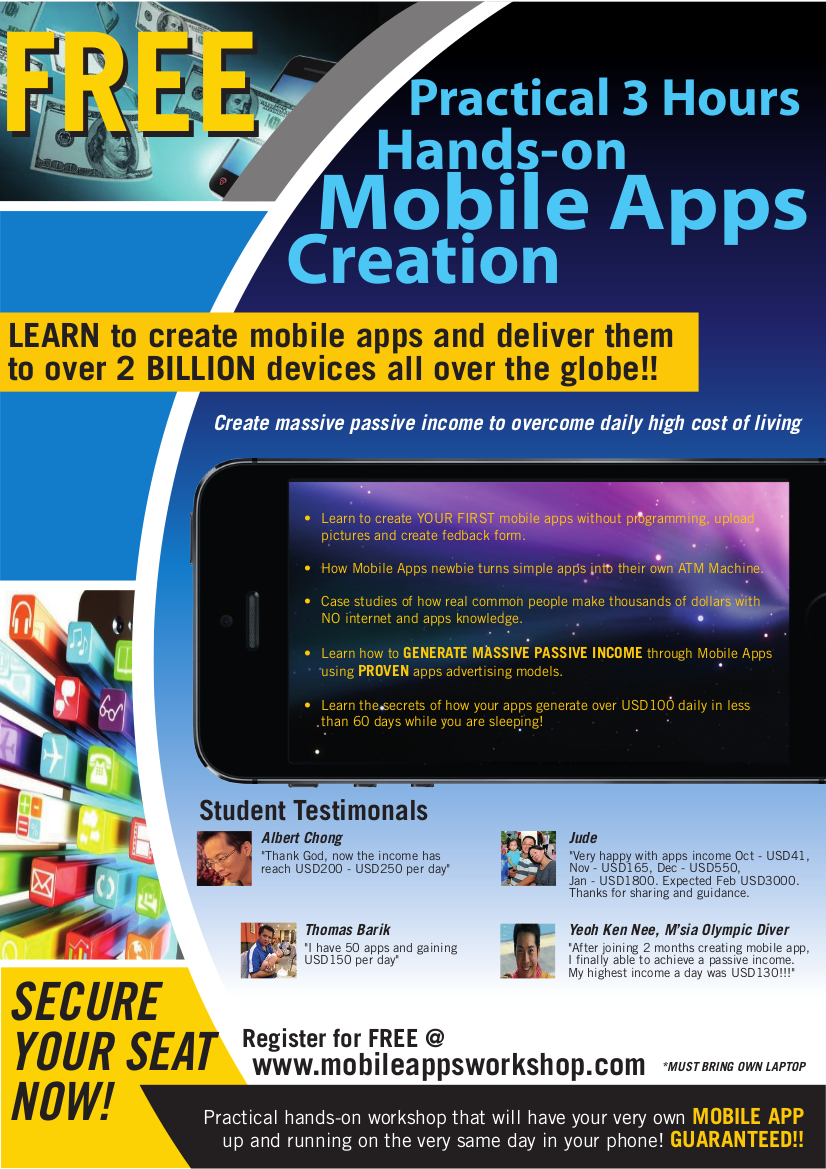 Actual value of this Introductory Workshop is RM497. Its yours for FREE… REGISTER NOW BEFORE WE START CHARGING BACK FOR OUR INTRODUCTORY MOBILE APPS WORKSHOP
DATE AND TIME
Sunday, November 18, 2018 from 3:00 PM to 7:30 PM
Location:Trailblazer Success Centre